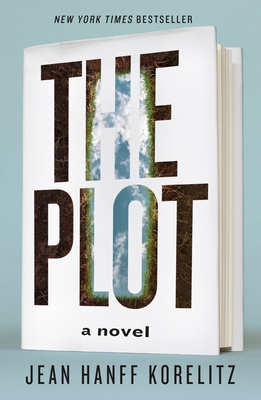 The Plot: A Novel
Publication Date:
May 3rd, 2022
Usually Ships in 1 to 5 Days
I devoured this smart, suspenseful novel about a failed novelist who reignites his career with a stolen plot and gains fame and notoriety. Korelitz's depiction of the book world is a treat for those of us in it, but her twisty, psychologically astute plotting will hold broad appeal.
May 2021 Indie Next List
Description
** NEW YORK TIMES BESTSELLER! ** The Tonight Show Summer Reads Winner ** A New York Times Notable Book of 2021 **

"Insanely readable." —Stephen King
Hailed as "breathtakingly suspenseful," Jean Hanff Korelitz's The Plot is a propulsive read about a story too good not to steal, and the writer who steals it.
Jacob Finch Bonner was once a promising young novelist with a respectably published first book. Today, he's teaching in a third-rate MFA program and struggling to maintain what's left of his self-respect; he hasn't written—let alone published—anything decent in years. When Evan Parker, his most arrogant student, announces he doesn't need Jake's help because the plot of his book in progress is a sure thing, Jake is prepared to dismiss the boast as typical amateur narcissism. But then . . . he hears the plot.
Jake returns to the downward trajectory of his own career and braces himself for the supernova publication of Evan Parker's first novel: but it never comes. When he discovers that his former student has died, presumably without ever completing his book, Jake does what any self-respecting writer would do with a story like that—a story that absolutely needs to be told.
In a few short years, all of Evan Parker's predictions have come true, but Jake is the author enjoying the wave. He is wealthy, famous, praised and read all over the world. But at the height of his glorious new life, an e-mail arrives, the first salvo in a terrifying, anonymous campaign: You are a thief, it says.
As Jake struggles to understand his antagonist and hide the truth from his readers and his publishers, he begins to learn more about his late student, and what he discovers both amazes and terrifies him. Who was Evan Parker, and how did he get the idea for his "sure thing" of a novel? What is the real story behind the plot, and who stole it from whom?
Praise for The Plot: A Novel
Selected as an Indie Next pick for May
A most anticipated book (AARP, Business Insider, Bustle, CrimeReads, Entertainment Weekly, LitHub, the New York Times, Oprah Daily, Parade, PopSugar, Wall Street Journal Magazine, and more!)
"The Plot is one of the best novels I've ever read about writers and writing. It's also insanely readable and the suspense quotient is through the roof. It's remarkable."
—Stephen King
"My favorite book of 2021? This one is easy. 'The Plot' by Jean Hanff Korelitz...[G]ood Lord is this a fantastic book. In addition to being an absolutely perfectly told mystery story, it also happens to be an especially deft satire of the literary scene."
—Malcolm Gladwell, "My Favorite Things of 2021"
"The Plot is so well-crafted and compelling it's nearly impossible to put down. Clever and chilling, this page-turner grabs you from the first chapter and doesn't let you go until its startling, breath-taking conclusion."
—Greer Hendricks and Sarah Pekkanen, New York Times bestselling authors of The Wife Between Us
"From its first pages, Jean Hanff Korelitz's The Plot ensnares you in a rich tangle of literary vanities, treachery and fraud. Psychologically acute and breathtakingly suspenseful, you'll find yourself rushing towards a finale both astonishing and utterly earned."
—Megan Abbott, Bestselling author of Give Me Your Hand
"The plot of 'The Plot' — the best thriller of the year (so far) — is too good to give away"
—Washington Post
"So clever, so taut, so dazzling, I read it in about five hours flat."
—Lisa Jewell, AARP's "11 Top Authors Pick the Best Books of the Year"

"Korelitz's own plot is fiendishly clever, and here's the ultimate twist: that any novel about a writer's life (lonely, anxious drudgery) could be this wildly suspenseful and entertaining."
—People, Book of the Week
"As a longtime fan of Korelitz's novels (including "You Should Have Known," which was made into HBO's "The Undoing"), I will say that I think The Plot is her gutsiest, most consequential book yet. It keeps you guessing and wondering, and also keeps you thinking: about ambition, fame and the nature of intellectual property (the analog kind)."
—The New York Times Book Review
"'The Plot' is wickedly funny and chillingly grim...it deserves to garner all the brass rings."
—The Wall Street Journal
"Gripping and thoroughly unsettling: This one will be flying off the shelves."
—Kirkus Reviews
"Deep character development, an impressively thick tapestry of intertwining story lines, and a candid glimpse into the publishing business make this a page-turner of the highest order. Korelitz deserves acclaim for her own perfect plot."
—Publishers Weekly (STARRED Review)
"Readers may find themselves batting away sleep and setting an alarm for early the next day to continue Jean Hanff Korelitz's propulsive literary thriller, The Plot. Korelitz is an audacious writer who delivers on her promises. Her next big-screen adaptation surely awaits."
—Bookpage
"Korelitz...effortlessly deconstructs the campus novel and, much like Michael Chabon in Wonder Boys (1995), acerbically mocks the publishing industry. Fearless Korelitz presents a wry and unusual joyride of a thriller full of gasp-inducing twists as it explores copyright, ownership, and the questionable morals of writers."
—Booklist
"Stay tuned to this devilishly compelling tale of ambition run amok."
—Oprah Daily
"This staggeringly good literary thriller is about a staggeringly good literary thriller written by a failed novelist who has stolen the book's plot from a deceased student."
—Shelf Awareness
"The author behind suspense novel You Should Have Known turned-HBO-series The Undoing outdoes herself in this literary-centric thrill ride."
—Newsweek
"Korelitz pulls off a true page-turner with, yes, a killer plot."
—AARP Magazine