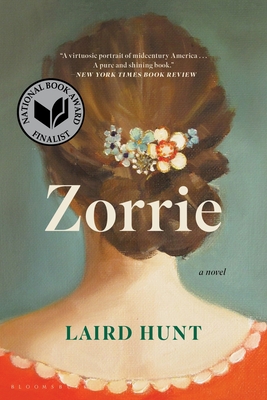 Zorrie
Publication Date:
November 1st, 2022
Publisher:
Bloomsbury Publishing
Usually Ships in 1 to 5 Days
Zorrie's life was not an extraordinary one for a woman of her generation. She experienced the trials of the Depression and loss brought by war. Most of her years were spent tending a farm in rural Indiana. Her quiet life, with its disappointments and possibilities, heartbreaks and hopes, is held before the reader unadorned until, in its simplicity, one comes to see a nearly sacred beauty. This is a stunning work, and one that I believe will hold an important place in American literature.
February 2021 Indie Next List
Zorrie is a stunning testament to a singular life: Zorrie Underwood, a midwestern girl orphaned at a young age, forced to reinvent herself. Hunt portrays her with a deep richness, reflecting the power and beauty of our own humanity.
Winter 2023 Reading Group Indie Next List
Description
Finalist for the 2021 National Book Award (Fiction)
"A virtuosic portrait." –New York Times Book Review
"A tender, glowing novel." –Anthony Doerr, Guardian, "Best Books of the Year"
"Pages that are polished like jewels." –Scott Simon, NPR, "Books We Love"
"Lit from within." -Mark Athitakis, Los Angeles Times, "Best Fiction Books of the Year"
"A touching, tightly woven story from an always impressive author." -Kirkus (starred review), "Best Fiction of the Year"
"Radiates the heat of a beating heart." –Vox
"A poignant, unforgettable novel." –Hernan Diaz

From prize-winning, acclaimed author Laird Hunt, a poignant novel about a woman searching for her place in the world and finding it in the daily rhythms of life in rural Indiana.
"It was Indiana, it was the dirt she had bloomed up out of, it was who she was, what she felt, how she thought, what she knew."
As a girl, Zorrie Underwood's modest and hardscrabble home county was the only constant in her young life. After losing both her parents, Zorrie moved in with her aunt, whose own death orphaned Zorrie all over again, casting her off into the perilous realities and sublime landscapes of rural, Depression-era Indiana. Drifting west, Zorrie survived on odd jobs, sleeping in barns and under the stars, before finding a position at a radium processing plant. At the end of each day, the girls at her factory glowed from the radioactive material.
But when Indiana calls Zorrie home, she finally finds the love and community that have eluded her in and around the small town of Hillisburg. And yet, even as she tries to build a new life, Zorrie discovers that her trials have only begun.
Spanning an entire lifetime, a life convulsed and transformed by the events of the 20th century, Laird Hunt's extraordinary novel offers a profound and intimate portrait of the dreams that propel one tenacious woman onward and the losses that she cannot outrun. Set against a harsh, gorgeous, quintessentially American landscape, this is a deeply empathetic and poetic novel that belongs on a shelf with the classics of Willa Cather, Marilynne Robinson, and Elizabeth Strout.
Praise for Zorrie
"A virtuosic portrait of midcentury America itself--physically stalwart, unerringly generous, hopeful that tragedy can be mitigated through faith in land and neighbor alike . . . This is a refined realism of the sort Flaubert himself championed, storytelling that accrues detail by lean detail . . . Hunt's prose is galvanized by powerful questions. Who were those forebears who tilled the land for decades, seemingly without complaint? How did they fashion happiness, or manage soaring passions, in their conformist communities? He re-examines the pastoral with ardent precision . . . What Hunt ultimately gives us is a pure and shining book, an America where community becomes a 'symphony of souls,' a sustenance greater than romance or material wealth for those wise enough to join in." —New York Times Book Review
"A tender, glowing novel . . . as beautiful as Marilynne Robinson's Gilead or Denis Johnson's Train Dreams." —Anthony Doerr, Guardian, "Best Books of the Year"
"The book feels irradiated itself . . . lit from within." —Mark Athitakis, Los Angeles Times, "5 Best Fiction Books of the Year"
"The National Book Award finalist of a novel packs a whole, absorbing human life into just 161 pages that are polished like jewels." —Scott Simon, NPR, "Books We Love"
"A beautiful rumination on finding meaning in our days." —Tayla Burney, NPR, "Staff Picks"
"A slim yet profound portrait of the life of an Indiana woman named Zorrie, spanning a humble lifetime shaped by the events of the 20th century." —USA Today
"Zorrie is a quiet novel about an ordinary life. And when you're ordinary, you need resilience like Zorrie's to survive in an uncaring world. Laird Hunt's short and affecting novel follows Zorrie Underwood's life from childhood in Depression-era Indiana, when she's orphaned, to early adulthood, when she's left on her own, to an eventual marriage and working life." —O Magazine's Most Anticipated Historical Fiction Novels of 2021
"A deceptively simple book about the curious forces that shape a life . . . Hunt's novel reads like poetry, evoking writers like Paul Harding and Marilynne Robinson, and radiates the heat of a beating heart." —Vox
"Through an ordinary life of hard work and simple pleasures, Zorrie comes to learn the real wonder is life itself. A quiet, beautifully done, and memorable novel." —Library Journal, Starred Review
"Quietly effective. [Hunt's] often lyrical prose traces Zorrie's hopes, griefs, loneliness, and resolve with remarkable economy . . . A touching, tightly woven story from an always impressive author." —Kirkus, Starred Review, Best Fiction of the Year
"A slight but poignant chronicle of a woman alone-and the grief, historic events and transformations that make her whole…ZORRIE is a novel that feels like it lives and breathes, and Hunt's ability to interweave unimaginable beauty with poignant, deep longing makes it an instant American classic." —Bookreporter
"A powerful portrait of longing and community in the American Midwest…Hunt chronicles the events of Zorrie's life with swiftness and precision, [and] a quiet sensitivity rarely seen in American fiction…Zorrie is a poetic reminder of the importance of being a happy presence in other people's memories." —BookPage
"Hunt's storytelling flows smoothly, its rhythms unperturbed by preciousness or superfluous detail. Fans of Kent Haruf's Plainsong trilogy will love this subtle tale of rural life." —Publishers Weekly
"Hunt celebrates the majesty and depth in a life that may superficially seem undistinguished… With compassion and realism, Hunt recounts Zorrie's story straightforwardly, with setting-appropriate dialogue and an eye for sensory details… A beautifully written ode to the rural Midwest." —Booklist
"Hunt packs Zorrie's whole life in this slim book of fewer than 200 pages, but it doesn't feel short, nor does it feel too long. Zorrie's life may seem simple to some, but it's a rich well of experiences worth exploring. Through loss, grief and tragedy, Hunt's lyrical and intimate novel shows that life is not a sum of its negative experiences but a collection of joyful moments." —Shelf Awareness
"Courageous and profound." —The Worcester Telegram
"This is not a just book you are holding in your hands; it is a life. Laird Hunt gives us here the portrait of a woman painted with the finest brush imaginable, while also rendering great historical shifts with bold single strokes. A poignant, unforgettable novel, Zorrie is Hunt at his best." —Hernan Diaz, author of IN THE DISTANCE, a Pulitzer Prize Finalist
"With patience, precision and language so clear and generous, you feel as if you are being handed a precious and fragile truth, Laird Hunt brings us an indelible portrait of a twentieth century American woman. Zorrie travels through her years with a straightforward decency that nevertheless does not shield her from harm, heartbreak, yearning, and a hard-won recognition of joy. It takes Hunt only a hundred and fifty pages to take us from one end of Zorrie's life to the other, and yet I closed the book feeling that I had read an epic." —Marisa Silver, bestselling author of MARY COIN and LITTLE NOTHING
"A sweeping, lyrical and profound portrait of a remarkable woman moving through the perils and wonders of 20th century American life. Zorrie will break your heart with its propulsive beauty, depth and grace." —Mona Awad, author of BUNNY
"Zorrie is a beautiful novel. It is gentle, yet full of surprises, and Zorrie, the protagonist who loves her farm and Elvis, is a wonderful creation." —Roddy Doyle, author of LOVE and A STAR CALLED HENRY
"Laird Hunt's Zorrie is compelling from its first page, the prosody like a "bolt of crinoline and serge and silk." Zorrie is "no giant," but her life is as full and satisfying as the short novel, fecund with grain and clover, sweetgrass and damp earth, love, loss, and radiant Luna dust. I read it, with great pleasure, in one sitting." —Nafissa Thompson-Spires, author of HEADS OF THE COLORED PEOPLE
"Zorrie lives and breathes, as a character and as a book. In its natural movement, its joys embraced and sorrows faced, it is a moving portrait of one woman's life -- and so, by extension, a portrait of all of our lives. Laird Hunt has such a gift for clear and precise language, for conjuring the details that matter; the rhythms of mid-century mid-America are brought into being with subtle power. Eerily lit, at times, by a radium glow, this is a luminous book." —Erica Wagner, author of CHIEF ENGINEER