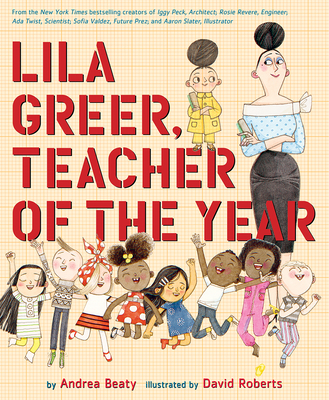 Lila Greer, Teacher of the Year (The Questioneers)
Publication Date:
November 7th, 2023
Publisher:
Harry N. Abrams
Usually Ships in 1 to 5 Days
Description
From the #1 New York Times bestselling creators of Ada Twist, Scientist and Rosie Revere, Engineer comes the story of the very first Questioneer: Lila Greer, Teacher of the Year! This moving picture book about an anxious girl's arrival at a new school celebrates kindness, learning to face your fears, and the profound difference one brilliant teacher can make in a child's life.
Lila Greer is full of worries. Even the smallest things—from cabbages to cardboard—fill her with dread and what-ifs. So when her family makes a big change—moving to a new town—the worry and what-ifs only grow. What if things go wrong? What if no one likes her?
At first, Lila feels right to be worried. In her new home, everything is strange. The new kids, the new smells. Lila feels alone and invisible. But there's one person who sees her: Lila's teacher, Ms. Kern. Through some creativity, blackboard erasers, and—most of all—kindness, Ms. Kern finds a way to make Lila feel welcome and open to new experiences. A lesson that will resonate with Lila long after second grade.
Follow Iggy Peck, Rosie Revere, Ada Twist, Sofia Valdez, Aaron Slater, and Lila Greer on all of their adventures! Add the picture books, chapter books, and activity books starring the Questioneers to your family library today:
The Questioneers Picture Book Series: Iggy Peck, Architect | Rosie Revere, Engineer | Ada Twist, Scientist | Sofia Valdez, Future Prez | Aaron Slater, Illustrator | Lila Greer, Teacher of the Year
The Questioneers Chapter Book Series: Rosie Revere and the Raucous Riveters | Ada Twist and the Perilous Pants | Iggy Peck and the Mysterious Mansion | Sofia Valdez and the Vanishing Vote | Ada Twist and the Disappearing Dogs | Aaron Slater and the Sneaky Snake
Questioneers: The Why Files Series: Exploring Flight! | All About Plants! | The Science of Baking | Bug Bonanza! | Rockin' Robots!
Questioneers: Ada Twist, Scientist Series: Ghost Busted | Show Me the Bunny | Five-Minute Ada Twist, Scientist Stories | Brainstorm Book
The Questioneers Big Project Book Series: Iggy Peck's Big Project Book for Amazing Architects | Rosie Revere's Big Project Book for Bold Engineers | Ada Twist's Big Project Book for Stellar Scientists | Sofia Valdez's Big Project Book for Awesome Activists | Aaron Slater's Big Project Book for Astonishing Artists
Praise for Lila Greer, Teacher of the Year (The Questioneers)
"This is a sweet story that emphasizes good cheer, helpfulness, and the importance of feeling welcome and heard, no matter who you are: terrific messages, expressed in bouncy verses that scan well. A much-needed reminder that kindness will always win out."—Kirkus