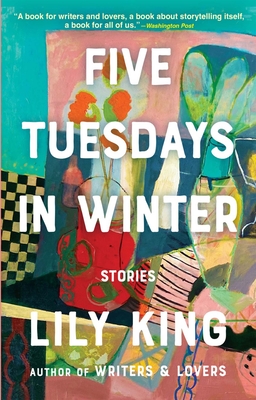 Five Tuesdays in Winter
Publication Date:
November 9th, 2021
Usually Ships in 1 to 5 Days
I was hooked from the first delightful and strange story in this new collection by the brilliant Lily King. Her focus is razor sharp and her storytelling pierces the heart. A great follow up to Writers & Lovers.
Jamie Southern, Bookmarks, Winston-Salem, NC
November 2021 Indie Next List
Incredible collection of short stories, threaded together by characters who display tremendous vulnerability. Almost every story contains a plot twist (my jaw hit the floor after the first). I cannot wait to put this in others' hands.
Alissa Redmond, South Main Book Company, Salisbury, NC
Spring 2023 Reading Group Indie Next List
Description
"Five Tuesdays in Winter moved me, inspired me, thrilled me. It filled up every chamber of my heart. I loved this book." --Ann Patchett
By the award-winning, New York Times bestselling author of Writers & Lovers and Euphoria comes a masterful new collection of short stories
Lily King, one of the most "brilliant" (New York Times Book Review), "wildly talented" (Chicago Tribune), and treasured authors of contemporary fiction, returns after her recent bestselling novels with Five Tuesdays in Winter, her first book of short fiction.
Told in the intimate voices of complex, endearing characters, Five Tuesdays in Winter intriguingly subverts expectations as it explores desire, loss, jolting violence, and the inexorable tug toward love at all costs. A reclusive bookseller begins to feel the discomfort of love again. Two college roommates have a devastating middle-aged reunion. A proud old man rages powerlessly in his granddaughter's hospital room. A writer receives a visit from all the men who have tried to suppress her voice.
Romantic, hopeful, brutally raw, and unsparingly honest, this wide-ranging collection of ten selected stories by one of our most accomplished chroniclers of the human heart is an exciting addition to Lily King's oeuvre of acclaimed fiction.
About the Author
LILY KING is the New York Times bestselling author of five novels, including most recently Writers & Lovers and Euphoria. Her work has won numerous prizes and awards, including the Kirkus Prize, the New England Book Award for Fiction, the Maine Book Award for Fiction, a MacDowell Fellowship, a Whiting Award, and she has been a finalist for the National Book Critics Circle Award and the PEN/Hemingway Award. She lives in Portland, Maine.