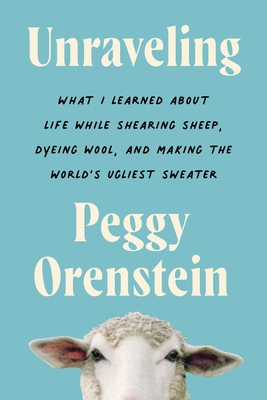 Unraveling: What I Learned About Life While Shearing Sheep, Dyeing Wool, and Making the World's Ugliest Sweater
Publication Date:
January 24th, 2023
Usually Ships in 1 to 5 Days
Description
"Orenstein is such a breezy, funny writer, it's easy to forget she's an important thinker too."—People
In this lively, funny memoir, Peggy Orenstein sets out to make a sweater from scratch—shearing, spinning, dyeing wool—and in the process discovers how we find our deepest selves through craft. Orenstein spins a yarn that will appeal to everyone.
The COVID pandemic propelled many people to change their lives in ways large and small. Some adopted puppies. Others stress-baked. Peggy Orenstein, a lifelong knitter, went just a little further. To keep herself engaged and cope with a series of seismic shifts in family life, she set out to make a garment from the ground up: learning to shear sheep, spin and dye yarn, then knitting herself a sweater.
Orenstein hoped the project would help her process not just wool but her grief over the recent death of her mother and the decline of her dad, the impending departure of her college-bound daughter, and other thorny issues of aging as a woman in a culture that by turns ignores and disdains them. What she didn't expect was a journey into some of the major issues of our time: climate anxiety, racial justice, women's rights, the impact of technology, sustainability, and, ultimately, the meaning of home.
With her wry voice, sharp intelligence, and exuberant honesty, Orenstein shares her year-long journey as daughter, wife, mother, writer, and maker—and teaches us all something about creativity and connection. 
Praise for Unraveling: What I Learned About Life While Shearing Sheep, Dyeing Wool, and Making the World's Ugliest Sweater
"The last few years have unspooled us all. Peggy Orenstein gathers us close, then weaves something hopeful and new in this surprisingly moving yarn about yarn." — Bonnie Tsui, bestselling author of Why We Swim and American Chinatown
"Unraveling is a delight. A meditation on life, and how, if we miss a step (or a stitch), our lives (our sweaters) can unravel at record speed. Funny, moving, and brilliantly written and researched. I will never look at sheep again without a sense of wonder and awe." — Julianna Margulies
"A charming memoir of a quietly transformative year." — Kirkus Reviews
"This snapshot of creative self-discovery will enlighten readers." — Publishers Weekly
"Entertaining and informative . . . . Orenstein tenaciously approaches her subject from every angle, literally wrestling it to the ground . . . . While Orenstein's garment is the work of an amateur, this book is anything but." — Washington Post
"This witty, irreverent memoir is, at heart, extremely serious . . . . Tucked among these tasks, which she tackles with verve and writes about with breezy humor, are lessons about the origins of clothing, the importance of women's work and the enormous toll the garment industry takes on the environment.""" — Star Tribune
"A larger-than-expected journey . . . . By book's end, the reader is ready to identify deep, intrinsic beauty in anything that difficult to create. You just may need to read the book to see that." — San Francisco Chronicle
"Dedicated crafters will particularly enjoy this pandemic-times memoir, but the appeal goes far beyond. The sweater may be ugly, but the journey is beautiful." — Booklist
"Orenstein recounts her adventures in learning new skills with the openness and keen observations of a wise friend. This is a delight to read and will be of interest not only to crafters but also to anyone who's learned something new as an adult." — Library Journal
"Illuminating, informative and often funny . . . . Orenstein is an impressively intrepid figure throughout this charming and candid memoir in essays . . . . An entertaining chronicle of a challenging year wonderfully well spent. Creativity and craft can soothe anxiety, encourage connection and spark joy; Orenstein's book will do the same." — BookPage